A virtual tour of the exhibition
You can take a virtual tour of the exhibition.
Because of its importance, it was presented to the public in Le Tampon, Reunion Island, in two different places.
In each place, the virtual tour offers you three points of view.
An aesthetic and educational exhibition
Printing is performed in very high resolution on « Fine Arts » canvas with exceptional performance, bright and saturated colours.
Put on display in Paris, Kathmandu, Belgium and Reunion Island, this exhibition has appealed to many different audiences, from the knowledgeable to the simply curious, from the youngest to the oldest. The deep blues of high-altitude skies transport all into another universe of extreme lands at the limit of human adventure.
Visitors with an aesthetic sensibility will be captivated by the large format photographs, which allow one's gaze to wander over the immensity of the Himalayas.
An educational exhibition
Our goal is to change our attitude about Water, essential component of all life on earth.
Curious visitors will be delighted and will be able to deepen their knowledge. There are 16 kakemonos which each present a facet of the treasure that is Water. These 16 texts enable us to understand its role in the geography of the mountain range, and its central place among these mountain populations who maintain passionate and ambiguous relationships with the rivers, lakes and springs. They also allow us to grasp the importance of the issues at stake around this water tower, on which the survival of more than a billion human beings depends.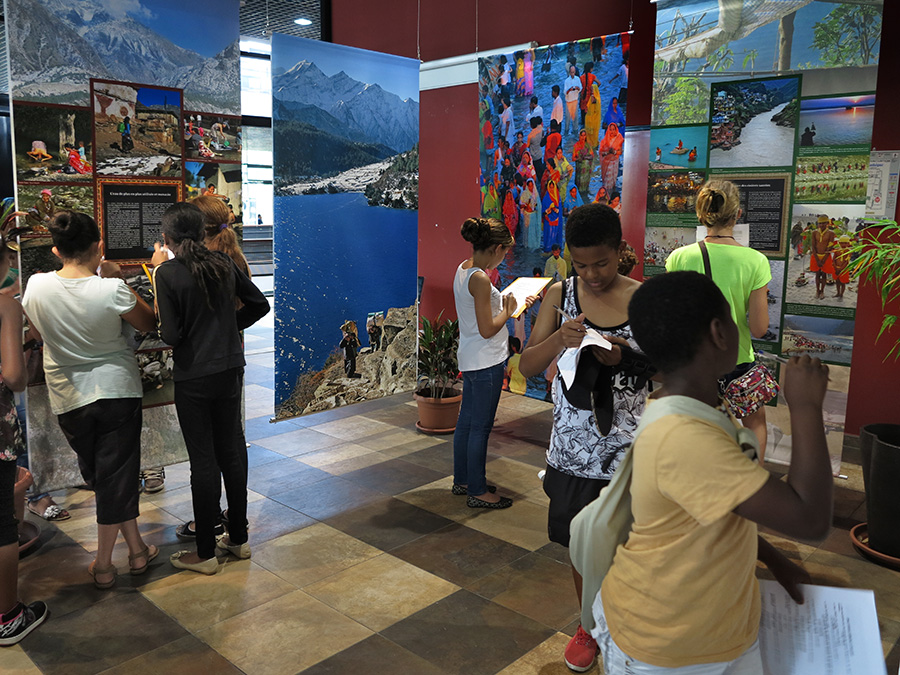 All texts and legends are suitable for all, even for the young public. This exhibition was recomended by the Ministry of Education and Environment, as a result of its pedagogical interest.
Easy to transport and install
Printed on canvas, the photographic material can be rolled to be shipped easily.
So, installation is quick. Just unroll the canvas, engage a bar (provided) in each scabbard and hang it.
Accorded to the space reserved for the exhibition, you can select between two different sizes :
Suitable for a small space (20 running meters), it is composed of :
– 12 horizontal photos 107 x 60 cm
– 12 square photos 61 x 61 cm
– 12 Vertical « kakemono » 53 x 225 cm
– 45 square photos 106 x 106 cm
– 10 horizontal photos 161 x 86 cm
– 15 vertical photos 212 x 106 cm
– 1 vertical photos 106 x 366 cm
– 20 kakemonos 53 x 225 cm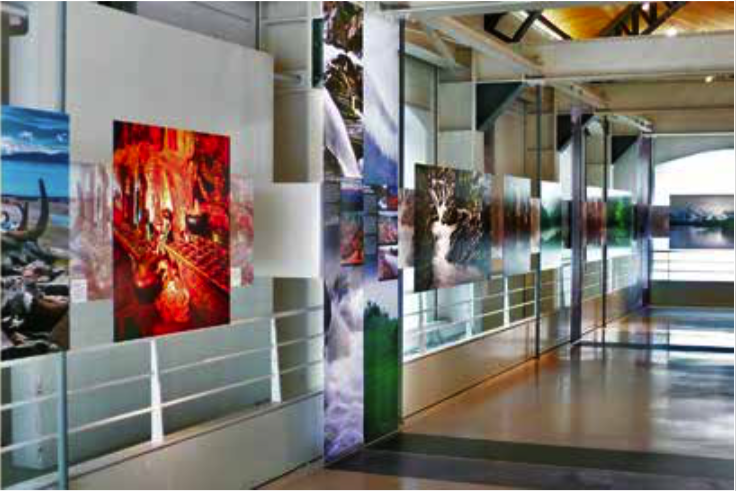 The exhibition « Water, treasure of the Himalayas » belongs to ARPEC – Association for the rapprochement of Cultures and People – which manages and ensures it.
The rental price depends of the duration and conditions of the exhibition.
For any loan, please contact Serge VERLIAT, president of ARPEC : serge.verliat@gmail.com